Pines of Lacanau
Receive prints within 5 working days: A print ordered on the same day is usually produced, mounted and shipped within 2 days, with an additional 2 to 3 days for delivery. Receive the original artwork within 5 to 12 working days, depending on the artist's availability.

Secure payment via Stripe
About the artwork
Sketch of in the pine forests of Lacanau Océan. India ink and watercolor on Fabriano 300g. Format A5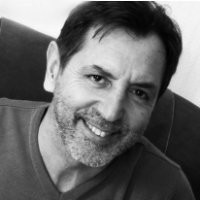 Philippe welcomes the beauty of a subject with calm, he extracts all its purity and retranscribes it with remarkable accuracy and finesse in his sketches done directly with ink, a delicate exercise guided by the search for the right balance. Admire his colouring, it is rare but just as masterful.
Philippe is first of all a creative person with an artistic talent that has been developed through his professional activities as a graphic designer, art director, creative director, an intense period of his life in Paris where he was able to transmit and teach his knowledge, his passion and his experience.
Today he lives in Toulouse in the south of France and with his sketchbook in his pocket he rides his motorbike as soon as possible to find new landscapes to sketch, near or far.
Details of the artwork
Shape

Portrait

Technique

Watercolour

Style

Sharp
Get this artwork - Shipping
Livraison Format A4 à partir de
5E
Livraison Format 30x40 à partir de
7,3E
Livraison Format 40x50 à partir de
7,3E
Livraison Coffret 40cmx50cm à partir de
€10
Livraison Coffret 70cmx100cm
€15